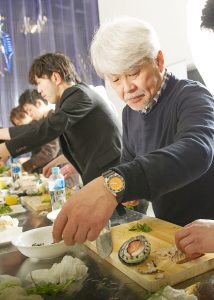 A delegation of 19 of Japan's best chefs visited CMG's Jade Tiger Abalone facility at Indented Head to see for themselves how and where Australia's premium abalone is grown.
The chefs, many of whom work at five-star hotels and top-end restaurants, are all competitors in a chefs' menu competition in Japan, judged by Iron Chef Sakai (of the global hit TV show, Iron Chef). They are accompanied on the tour by Japanese journalists, a translator and representatives from Austrade and Trade Victoria.
While at the Jade Tiger facility, the chefs took part in a friendly Bellarine sashimi abalone competition – showing off their intricate knife skills as they prepare the prized Jade Tiger abalone for the tasting table and sample the final product.
The chef that demonstrated the most creative handling of the abalone won a box of live abalone hand delivered to their restaurant in Japan and will receive a full presentation by the Jade Tiger sales team about the development of this fascinating product.
Jade Tiger Abalone has established itself as a global supplier of live abalone, exporting 5 to 7 tonnes of live product every week from its production facilities on the shores of Port Phillip Bay. The live abalone are flown out of Melbourne and delivered anywhere in the world within 24 hours – displayed in restaurant fish tanks from Sydney to Shanghai where discerning diners insist on seeing and selecting seafood live before eating it.
"Increasingly, customers are using the internet to trade with us directly rather than going through wholesalers," said Jade Tiger Abalone General Manager Anton Krsinich. "We are part of a new global market where we have a more direct relationship with restaurant chains and chefs who want to know more about the product before putting it on their menus."
He said the Japan-Australia Economic Partnership Agreement had eradicated the 7% import tariff on abalone, boosting the impact of the falling Australian dollar and further improving Jade Tiger's competitiveness in Japan.
That increasing demand has also provided the impetus for CMG to expand its abalone farm exposure – Jade Tiger Abalone is now in production across three sites, lowering overheads and reducing production costs by 12%.
In a strategic move to capitalise on growing demand, Jade Tiger is sending a trade delegation to Japan this week. "We are heading to Japan to touch base with our established customers on the back of cost improvements through falling tariffs, a weaker Australian dollar and the lower cost of production now we have three sites online," Mr Krsinich said.
With three sites in operation – at Indented Head and Avalon in Victoria and in the pristine waters of Dunnalley in Tasmania – production is expected to reach 400 tonnes in coming years.
During the Japanese chefs' visit to the Jade Tiger Abalone facility, Mr Krsinich will introduce the visitors to an important new element of the business; a snap-freezing processing line that will live-freeze ultra-premium sashimi-grade abalone for export to markets including Japan, USA and China.
"The snap-freezing processing line is state of the art, utilising a brine freezer at minus 23 degrees that rapidly freezes the abalone with no cell damage or weight loss – it thaws perfectly as sashimi-grade," Mr Krsinich said. "The move into live-frozen abalone is a natural extension of our traditional live product. We needed to establish the live-freezing process in-house to ensure quality control and deliver the product provenance our customers demand."
The frozen processing will account for about 30% of Jade Tiger Abalone's production, with the majority of the remaining 70% exported live.
Mr Krsinich said he is confident falling tariff barriers will continue to boost global demand for the Jade Tiger abalone.
"People from Tokyo and Beijing to Singapore and Sydney are asking for Jade Tiger abalone by name," Mr Krsinich said. "The move into live-frozen product means every top-end restaurant can offer Jade Tiger abalone, regardless of whether they have the seawater tank facilities necessary to offer the product live. It gives our clients choice and it also gives them the opportunity to have adequate product on hand for peak demand periods."